As we look back on 2017, our team is grateful for our first year together incubating and launching The Spectrum Works! It was truly an amazing year of growth, friendship, and purpose. We're thankful for the network we've cultivated supporting and partnering with us to help deserving adults with autism find meaningful employment!
Looking back, Herag counted and we met 31 times in 2017! That's exactly one month of full work days together, and though we are bias, we are quite proud of all that we accomplished in our first year!
Our year in numbers: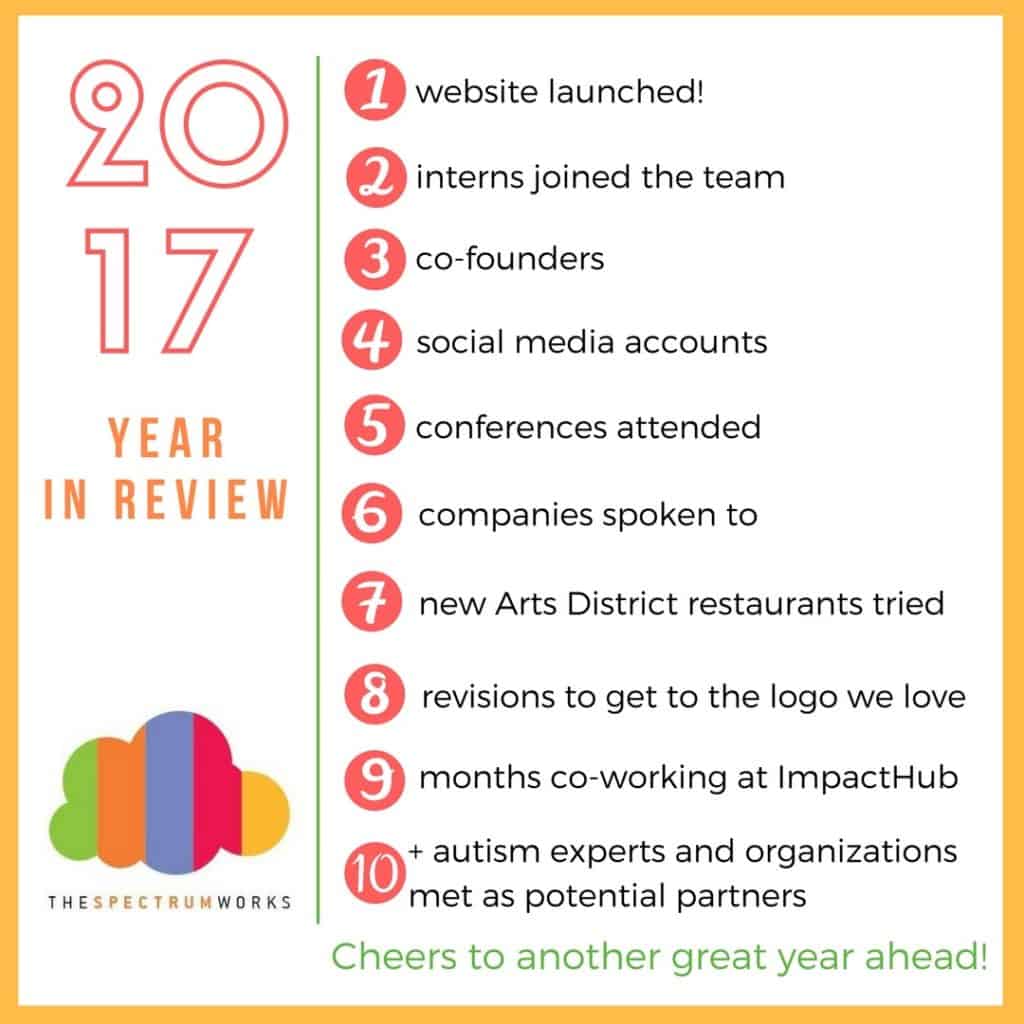 We also began the task of fundraising and launched our $185K seed funding campaign! Thank you to all who gave to us to help us get started! (We're still looking for donors and appreciate any referrals!)
Some of our personal accomplishments along the way:
Herag started teaching a graduate project management course at the University of Southern California (USC)
Lisa started teaching middle school students with learning disabilities to read at Frostig School
Jessica completed a non-profit board leadership and internship program and spoke at an event about millennials in the workplace
We have tremendous gratitude for the overwhelming amount of support and affirmation we've received by the autism community, corporations, friends and even strangers we've shared with about our organization. We are very excited for what's ahead in 2018!
Some of what's to come:
Pilot programs: We are actively looking for corporations to pilot with.
A video: To change perceptions about autism and raise awareness of the benefits of having autistic talent and neurodiversity in the workplace
A research project: To benchmark success stories and challenges of autistic adults in the workplace, and support mechanisms needed for job sustainment
Lots of continued networking to find partners, educate ourselves, and be exposed to the autism community. To kick off the year, Herag and Jessica will be at Harvard University in February for their annual social enterprise conference!
And for some of our personal development in 2018 as Co-Founders:
Herag will be teaching a second semester at USC
Lisa just started an online grant-writing course and will continue teaching at Frostig
Jessica will be participating in an advocacy leadership institute and starting an executive program in social impact strategy through the University of Pennsylvania
Thanks again for all of your support. Cheers to the year ahead!